What is Trivia Chatters?
Trivia Chatters is a website that allows people to answer (very) random Trivia Questions in a chat room environment
Is it free to play ?
It's totally free to play! Although, for a few "stars" you can upgrade yourself so that you have colored text, can view more than one camera and send private messages to other Trivia Chatters. You don't need to be upgraded to play Trivia, it will function just as well if you are not upgraded.
Should I log in as a guest or should I register ?
The only issue you might experience as a guest is that someone else can log in with the name you have been using and in turn, they will have your score. So registering is a good idea, if only to preserve your score! Again, registering is completely free so you have nothing to lose by registering, it just protects your name and score.
I found a bug, what should I do ?
Some bugs exist that may never be fixed due to the way the chat designer has decided to implement their spam filters on chat (repeated lines of text or unacceptable words / phrases). This will sometimes mean the Trivia Bot doesn't display a question or an answer. Sorry about that!
I found an incorrect question / answer
Use the contact form so that you can let us know about incorrect data. Since we have over 60000 questions, there are bound to be some incorrect facts. But please bear in mind that in some instances, you may have encountered the "filtering" bug mentioned above.
I answered a question correctly, but the bot said "I guess nobody knows the answer"..wtf !?
Again, take note of the "bugs" above. Also there's a teeny tiny lag on the bot. So you have to answer around 1/2 second before the bot is getting ready to say nobody knows the answer, other wise you won't get the point.
Are there any special commands for the triviabot ?
!start: will start the TriviaBot if it's not already running (not applicable if it's crashed)
!stop: will stop the bot*
!Mat or !MoreAnswerTime: Will increase the time you have to answer a question by increments of 5 seconds*
!Lat or !LessAnswerTime: Will decrease the time you have to answer a question by increments of 5 second*
!Mqd or !MoreQuestionDelay: Will increase the delay between questions by increments of 5 seconds*
!Lqd or !LessQuestionDelay: Will decrease the delay between questions by increments of 5 seconds*

!Leaders: Will display the top 20 players of this year
!LeadersAt: Will display the top 20 all time players

!Score or !MyScore: Will display your yearly and all time score
!Score [username]: Will display the yearly and all time score of the person you choose, plus your yearly and all time score.

!Stats: Will display your current stats for how many questions you've answered in 24 hours and you can answer before hitting the Allowance point limit.
!Stats [username]: Will display the current stats for how many questions the person you've chosen has answered in 24 hours and can answer before hitting the Allowance point limit.
!Allowance: Displays the current settings for how many points users can score in a 24 hour period without hitting the limit

!Msgin [your message] : Lets you enter a message that the bot will add to your !MyScore or Hello Bot response
!Msgout [your message]: Lets you enter a message that the bot will display when you say Brb in chat.

??? or bot??? or triviabot??? : Lets you query the question / answer for being incorrect**

There's also a bunch of random triggers for certain words or phrases and the bot will talk back to you. See if you can find them

More to add, when I can be bothered

* <-- Indicates that only Trivia Admins can use these controls
** <-- Only Trivia Admins and Auditors can use this control
I've got some kick ass questions. How do I get them added?
Right click on the excel file here and save it to your computer (left click might work too, depends on your browser). Then open it (on your computer), it'll open in any newish version of Excel or Open Office. Follow the instructions in the excel file then send the file to support at triviachatters.com
How do I play music through my soundcard on chat?
This guide should work for Windows 7, Windows 8, Windows 10
1: Right click on your speaker icon by your Windows Clock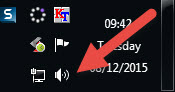 2: Select Recording Devices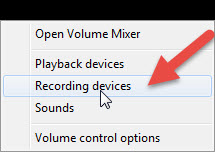 3: Right click anywhere in the middle of that window and select Show Disabled Devices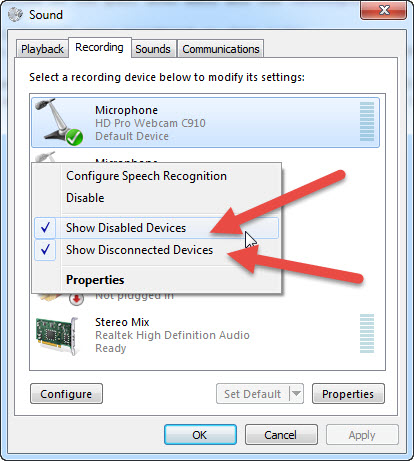 4: You will now see all of your available devices (microphones, etc). You are looking for Stereo Mix.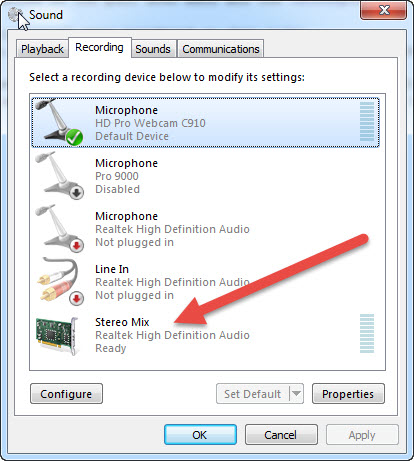 5: Once you have Stereo Mix in the list, right click on it and select: Set as Default Device and Set as Default Communication Device.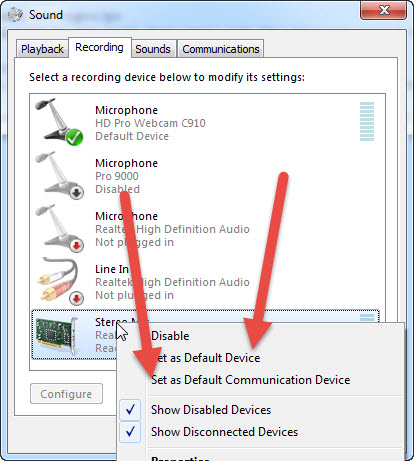 If you don't see Stereo Mix, either your soundcard doesn't support it, or you need updated drivers. In most cases you'll have a realtek soundcard and can download/install the drivers from : Realtek Soundcard drivers<-- just click the link to go there.
It'll now show a green tick by Stereo Mix: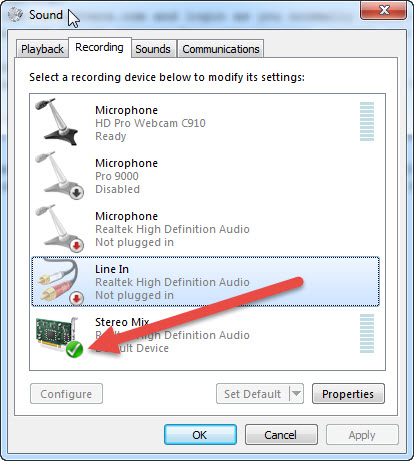 6: You also need to right click on Stereo Mix and choose Properties.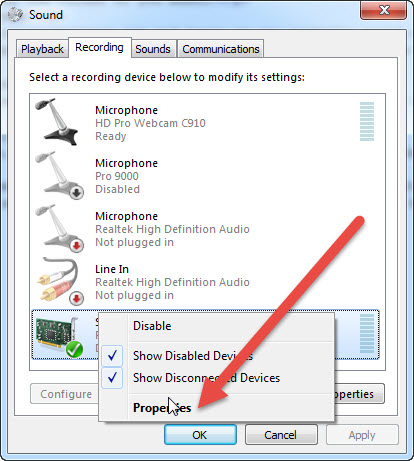 Then click on the tab called Levels then set the volume slider to around 60%. Then click Apply and OK. If you go any higher the audio is likely to be distorted to your listeners.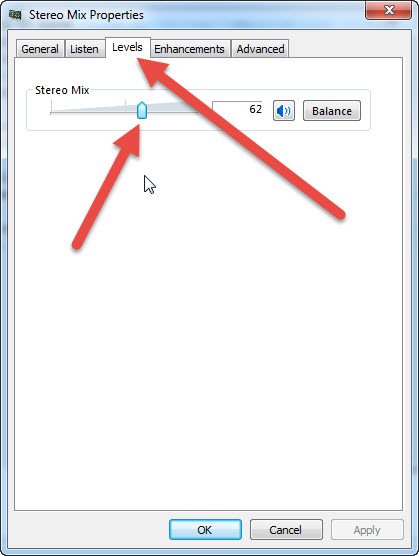 7: Finally (for this part anyway), On the main window click on Communications tab..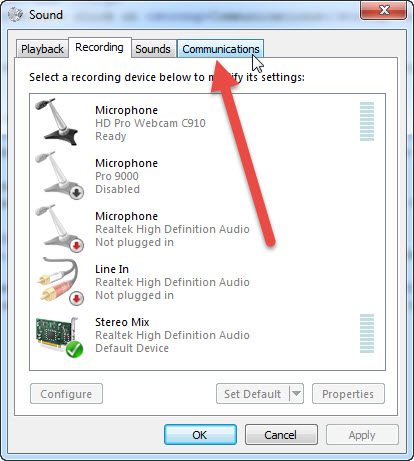 and select Do Nothing. This stops other programs from changing the volume of you music.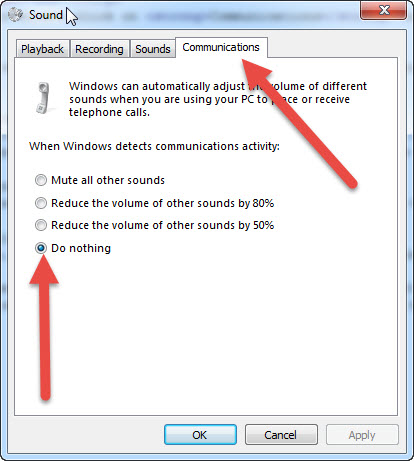 ---
Now we move onto the Flash Chat Program settings:
8: Visit your chat program, in this case www.triviachatters.com and login as you normally would.
9: Right click in the middle of the chat window and choose Settings,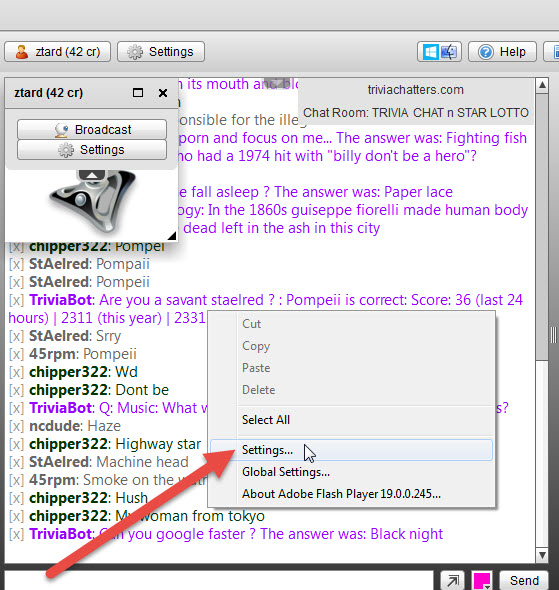 10: You'll now see "Adobe Flash Player Settings" window. Click on the tab for the microphone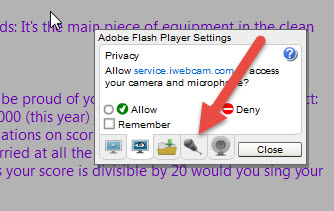 11: Ensure Stereo Mix is selected in the pull down menu and the record volume is set to around 50% then click on Close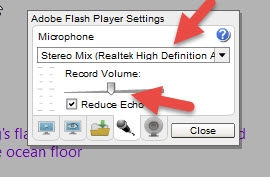 You should now be setup to play music directly through your soundcard on chat !
If you want to revert back to your microphone, simply go back and follow steps 9 to 11, but replace stereo mix with your microphone
Note: in some cases you can have everything setup correctly but stereo mix still doesn't work. It's always advisable to use the link in step 4 to make sure you have the newest soundcard drivers incase you have old drivers that had a bug.
My Camera doesn't work on Chat, what do I do ?
Some webcams don't play nice with Adobe Flash. The simple solution is to download a intermediate program that can display your webcam's video feed, in Adobe Flash. Please read the info about Manycam below on how to get it working
How do I remove the Manycam logo from my video?
This guide will show you how to remove the logo / watermark from Manycam. It should work with all versions of Windows up to Windows 8 )(and maybe Windows 10.. I couldn't test that, sorry)
The newest versions of Manycam don't allow you to remove the logo/watermark unless you pay for Manycam. So you need to revert back to an older version.
As far as I can tell, the last version that allowed you remove the logo / watermark is version 3.0.80. So, if you want to remove the logo, you'll need to uninstall your existing version of Manycam. Then follow the guide below.
1: Visit oldversion.com/windows/manycam/ and download the file called Manycam 3.0.80
2: Once downloaded, install it as you would install any other program.
3: After the installation is complete, start Manycam and you will see the screen below:

You want to hit the X, so that you do not download the upgrade. By doing this, you will have the ability to remove the Manycam logo, but you'll miss out on some new "Effects".. who cares eh ?
4: After hitting the X, you want to click on the areas circled in red in the image below: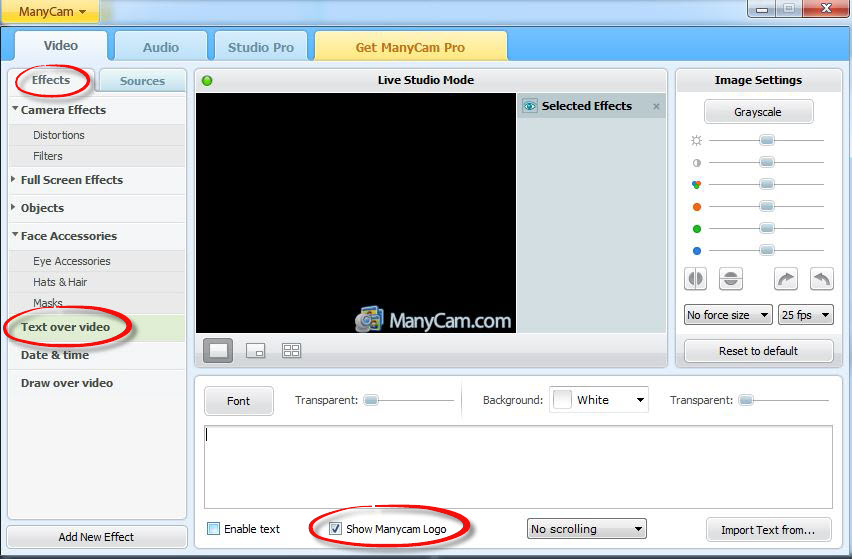 It's pretty self explanatory. Click on Effects, then click on Text Over Video and finally remove the tick/check from Show Manycam Logo
The logo should now be removed from your video. Happy days!
If you accidently install the upgrade, simply uninstall it and then follow the steps in this tutorial again for installing version 3.0.80
Google Chrome won't remember my flash settings ?
With the release of Chrome version 69, Google have disabled the ability to remember flash settings. However there is a work around:
In your Chrome address bar, copy and paste this: chrome://flags/#enable-ephemeral-flash-permission
Enable Ephemeral Flash Permissions should be highlighted. To the right of it Click on where it either says "Default" or "Enabled" and change it to "Disabled"
You should no longer be prompted to enable flash each time you visit triviachatters.com